CLUB AVANT SEINE 2022 Selection !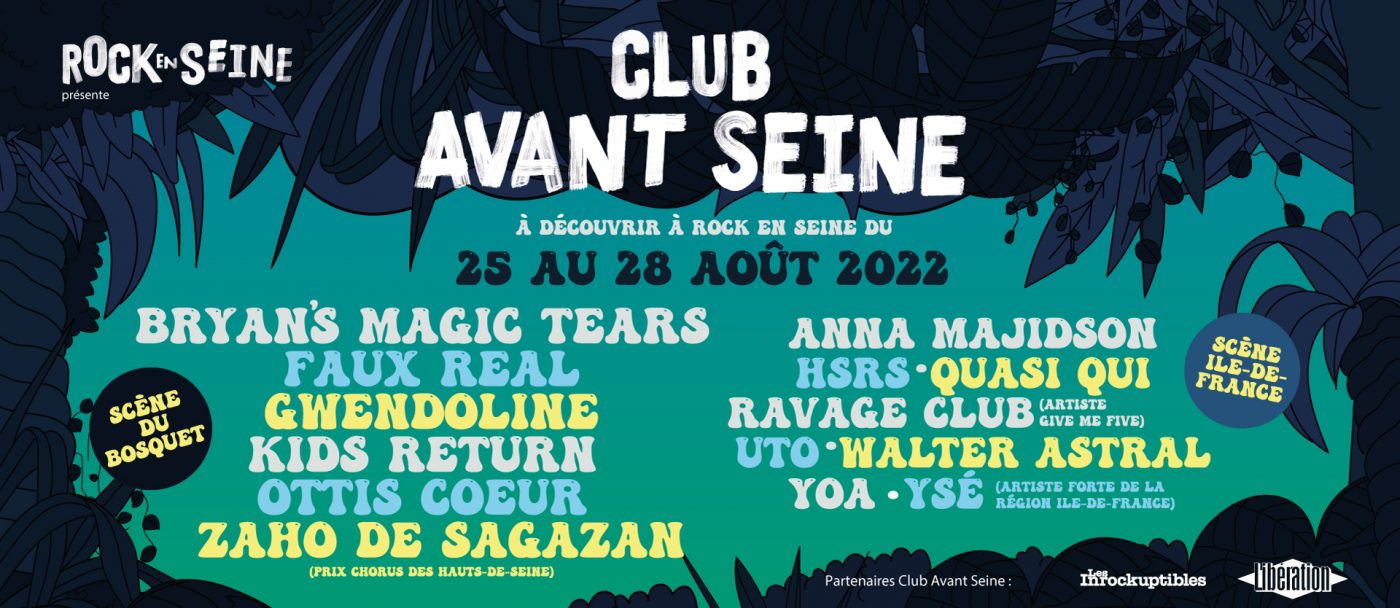 Every year, Rock en Seine puts forward artists from the Ile-de-France and the rest of France. They are the great talents of tomorrow! They are the Avant Seine, and we are happy to present you our favourites of the year 2022.
The groups of the Scene du Bosquet
The groups of the Scene Ile-de-France
Thérapie Taxi, Fauve, DBFC, Feu! Chatterton, Lord Esperanza, Malik Djoudi, François & The Atlas Mountains, Lily Wood And The Prick… They are pop, rock, electro, hip hop… What do they have in common? The Avant Seine Club shirt! To find out more about the emergence process, click here.
They were Club Avant Seine…
Quinzequinze – Lucie Antunes – Michelle Blades – Bandit Bandit – Structures – Zed Yun Pavarotti – la Chica – Halo Maud – Lord Esperanza – Malik Djoudi – MNNQNS – Terrenoire – The Psychotic Monks – Inüit – Barbagallo – Lysistrata – Therapie Taxi – Gracy Hopkins – Rendez-Vous – Adrien Soleiman – Theo Lawrence & The Hearts – O – Killason – Maestro – DBFC – Forever Pavot – Jeanne Added – VKNG – Last Train – Jessica93 – Dorian Pimpernel – Feu Chatterton! – ALB – Pegase – Fauve – Petit Fantome – Fi.she.s – JC.Satan – Wall of Death – Hyphen Hyphen – Owlle – Concrete Knives – François & The Atlas Mountains – Cheveu – Gush – Lilly Wood & the Prick…