The Mag'
CANCELLATION OF TUESDAY AUGUST 30TH
11 Aug 2022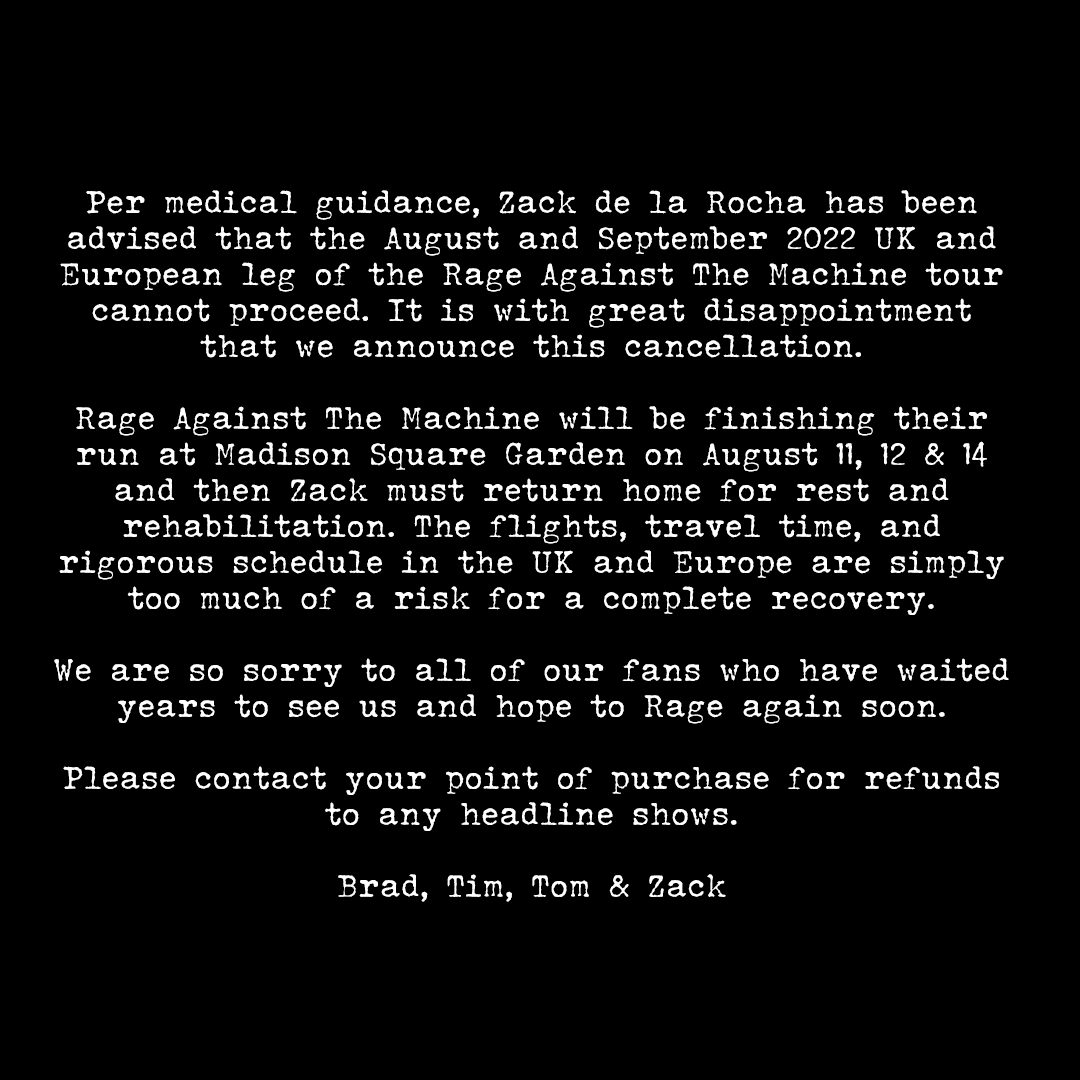 DUE TO THE CANCELLATION OF RAGE AGAINST THE MACHINE'S EUROPEAN TOUR FOR MEDICAL REASONS, WE REGRET TO ANNOUNCE THE CANCELLATION OF TUESDAY 30TH AUGUST SHOW DAY.
RAGE AGAINST THE MACHINE have informed us of the cancellation of their European tour for medical reasons. We regret to announce that the festival day on Tuesday 30th August will not happen. The festival's lineup also included: RUN THE JEWELS, FRANK CARTER AND THE RATTLESNAKES, AUSGANG, POGO CAR CRASH CONTROL, PARLOR SNAKES AND CRAWLERS.
Below is the group's statement detailing the reasons for the cancellation:
«Per medical guidance, Zack de la Rocha has been advised that the August and September 2022 UK and European leg of the Rage Against The Machine tour cannot proceed. It is with great disappointment that we announce this cancellation. Rage Against The Machine will be finishing their run at Madison Square Garden on August 11, 12 & 14 and then Zack must return home for rest and rehabilitation. The flights, travel time, and rigorous schedule in the UK and Europe are simply too much of a risk for a complete recovery. We are so sorry to all of our fans who have waited years to see us and hope to Rage again soon. Please contact your point of purchase for refunds to any headline shows.»
Brad, Tim, Tom & Zack
The whole ROCK EN SEINE team regrets this news and wishes Zack de la Rocha a speedy recovery.
Customers who have purchased a ticket for Tuesday (day ticket or 2-day pass) will be eligible for a refund in the next few days. We will specify the procedures for the different retailers on the festival website on this page.
Rock en Seine 2022 will take place Thursday 25th to Sunday 28th August for 4 days of long awaited live music in Paris. Thursday 25th and Saturday 27th August festival days with ARCTIC MONKEYS and TAME IMPALA are already sold out, but tickets are still available for Friday 26th and Sunday 28th August with NICK CAVE & THE BAD SEEDS and STROMAE.
An email address is available for any further information : remboursement.ratm@rockenseine.com.