The Mag'
Kids Return: "We tell a story when we make music"
27 Aug 2022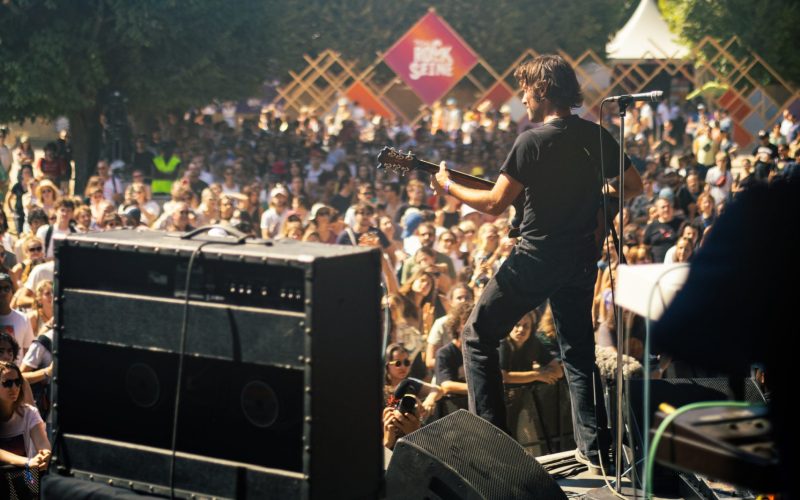 If you don't know Kids Return yet, hurry up and listen to this duo with their aerial and bewitching music, influenced by the 7th art and giving you the desire to walk under an enchanting sun. But, while waiting to put on your sandals, Adrien and Clément's music gently nestled in your ears, let's introduce them…
The origin of Kids Return is Teeers. The group that Clément, Victor and Odilon formed. You were very young at the time. At the beginning, it's very rock, inspired by Arctic Monkeys and The Strokes, isn't it?
Clément: Yes, at the beginning we were very rock. Then Random Access Memories by Daft Punk came out. So we thought we were going to do funk. In retrospect, I think that was a mistake. It broke something. We had the enthusiasm of young people who wanted to rock, that's where we were better. Then we got a bit lost trying to produce something different. But I know we made some great songs and I have some really good memories of it.
Then Adrien, you join the band soon after, and the sound evolves. Teeers became more electro…
Adrien: It's naturally where the band was going, I'm not at the origin of this transformation. I only joined the band to play keyboards in concert. And then finally we started to compose together, we released the EP After the After. A year later, we had to go to Los Angeles for a tour but it was the beginning of the mess with the pandemic and the confinement. Clement and I go first and we both stay there for a few days without a gig. That's when the band starts to split into two groups. Four days later, Clément and I go back to Paris. And it was during this confinement that Kids Return was born.
With the pandemic, Teeers split up. And then Kids Return was born, formed by you, Adrien and Clément. And the sound is still evolving. How would you describe it?
Clément: A very organic and analog sound, with a lot of space and air. The rhythm is given more by the folk guitar than by the drums.
Adrien: The tempo is not really fast.
Clément: And without being particularly into a vintage thing. We're not interested in doing vintage for vintage's sake. We asked ourselves how to be modern today. Well, maybe it's to do the thing backwards, to put aside the computer and go back to something more down to earth in the sound and put our hands in it.
Is it because you were confined together, in a sunny Paris flat, in a moment we all knew, a little frozen in time, that Kids Return also captured this sound?
Clément: That's a good question. I think it is. That moment of confinement was very strong. We didn't understand what was going on, like everyone else. The flat was well exposed, there was a very nice light coming in. In the evening, we had drinks while playing notes on the piano. That's how Kids Return was born.
And how do you explain that in so few years, and while you are still so young, your sound has evolved so much?
Adrien: Clément and I didn't compose with Teeers. We left the band because we wanted to compose, to make our own music, the one that suits us. It wasn't a path between Teeers and Kids Return but a fracture.
Clement: I realised that I didn't want to make music that I wouldn't listen to.
Let's talk about the name of your band, Kids Return. It's the title of the Takeshi Kitano movie. Why did you choose it?
Clément: During the lockdown, everyone was watching films. We were all at home and there was really nothing to do. So we watched a lot of films and made our culture. In the flat, there was a Takeshi Kitano box set. We started to watch them and then we saw Kids Return. The film is a story of friendship, of two friends who take different paths before finding each other again in the end. It inspired us a lot. And one night I said to Adrien: "Hey, if one day we have a band, we'll call ourselves Kids Return. And that's how it really started.
Do you use cinema for your music?
Adrien: Yes, clearly. At the beginning of Kids Return, we didn't know exactly what we were going to do. Personally, I didn't know I was going to start singing. I wasn't a singer! We even wondered if we were going to do film music. Among our references, there are many film composers: Ennio Morricone, Francis Lai, Vladimir Cosma… We knew how to compose and produce but we couldn't sing or play music very well! But very quickly, after two months, we realised that we wanted to make songs and sing. As a result, cinema is very much linked to our group. In fact, our latest track, Lost in Los Angeles, is a reference to Paris, Texas and road trip films like Terrence Malick's My Own Private Idaho or Badlands, which we saw recently. The aesthetic coherence of the films is very inspiring to me and it also corresponds to what I try to do in music.
So, wouldn't you be tempted to do film music in the future?
Clément: We just did our first soundtrack, for a movie that was shot this summer. It was really a dream and we're not going to stop. With notes, you can give meaning, emotions…
Adrien: And relief. The music of a film is like another character. You tell a story when you make music. It's the same for a film.
Interview by Thomas Destouches