The Mag'
Yard Act: "A group is a symbiotic relationship"
25 Aug 2022
In just one year, the English quartet has released an EP, an album (The Overload), recorded in the studio with Elton John and quickly carved out a singular and eclectic musical path where the lyrics deliver a powerful social discourse, full of humour and irony.
How does it feel to be the first band to open this edition of Rock en Seine after two missed editions due to the pandemic?
James Smith: Already it looks like a really big festival. When we were talking about it, everyone seemed really excited. Now that we're here, we understand why. And the line up is amazing. It's good for us to open the festival so we can spend the rest of the day going to concerts! It feels good to be back, to be performing.
You start your first album with the title track The Overload. It contains the following lyrics: "If you wanna make some decent money from it / You'd better off kicking / That dickhead singer you've got in out the band" Quite an introduction…
James Smith: Yes, it was self-referential by the way. One person said that about me, when I was in another band, after a gig in a pub. He took the band members aside and told them they'd better get rid of me!
Jay Russell: I didn't know that!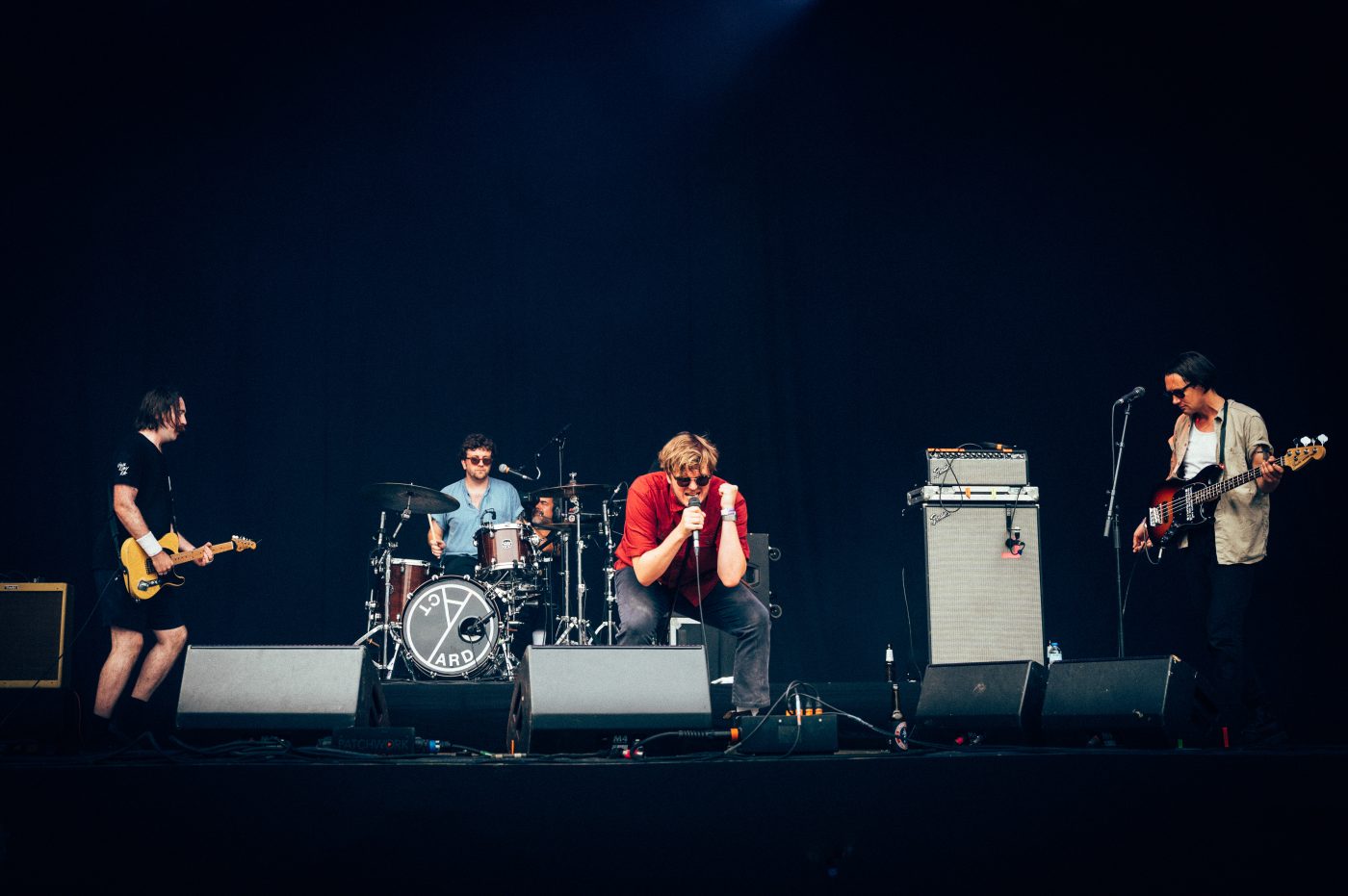 So your first album was released in January. Almost a year to the day after your first EP of singles. When you start working on a full-length album, what is your state of mind? Do you start with the idea of making a coherent work or do you take things as they come?
James Smith: We're working on the idea of making it a coherent piece of work. That's why our first singles weren't included. They weren't exactly what we wanted to do. So for this album we wrote a lot of songs and then we selected the ones that seemed to work together, whose themes matched. Then we wrote some more to make sure that everything connected exactly. From my point of view that's a good way to make an album.
Jay Russell: From our point of view, an album should be a complete work from start to finish and not a collection of songs one after the other.
Do you have any albums in mind that are complete and coherent works?
James Smith: Plastic Beach by Gorillaz! A true concept album from start to finish, where the songs answer each other. The first and latest Arctic Monkeys albums also tell stories. What's absolutely fascinating is to remember that the album format was originally determined by the physical length that a record could hold. You had to decide which songs to put on which side of the vinyl. These limitations were a good source of creation. Look at what Pink Floyd did with it!
Between the singles and the album, there seems to be an evolution in your lyrics. The inspiration is the same, the social observation is the same, but the irony is still there, the cynicism is not. Just read the lyrics of the song "Rich". Is this a conscious evolution?
James Smith: Yes, of course! When you start a band, nobody knows who you are. Naturally you're a bit guarded, there's not that trust between the band and the audience yet. You're not necessarily ready to be vulnerable yet. As we progressed in our career with the band, seeing that people were listening to us and starting to really follow us, it encouraged us to reveal ourselves a bit more. This evolution is particularly visible in the second part of our album. It opens up a bit more towards emotion, towards vulnerability. Until then we weren't really ready. It really comes from the confidence the audience has given us. We are particularly proud, lucky and aware of that. It doesn't happen to every band and maybe that's why a lot of them are angry! (laughs)
Your songs always have this comic and humorous dimension. Are these aspects inseparable from Yard Act?
James Smith: We just spent four hours in our van watching the British comedy series The Fast Show! Our friendship owes a lot to humour.
Jay Russell: We have fun together all the time. Whether it's at rehearsals or in our van. From the time we wake up until we go to bed, we basically try to make each other laugh all the time. It's a big part of who we are and, in fact, of our music. Maybe that's why the audience connects with us. But we're also aware that we shouldn't become a joke ourselves! That's the limit.
Your songs have a social dimension, a view on society and life. To convey this message through the lyrics is not easy. But we can hear and read the lyrics. How does the music complement and inspire this social dimension?
James Smith: That's a great question!
Jay Russell: The lyrics and the music are so intertwined… The music takes the pulse of James' words and when he's not singing the music takes over and adds another dimension. This is even more true in concert.
James Smith: It's a symbiotic relationship. I have to listen to them as they listen to me. And yes, I agree, it's even more true and different live. When you design the album, the music is a kind of bed for the lyrics. But in concert, the band, the musicians shine so much more. Again, in the studio or on stage, it's a relationship of trust between all the members. It's also knowing when to put yourself forward and when to take a back seat, when to listen to one or the other, when to change the mood of the person listening to the lyrics. It's manipulation, almost magic!
You have been playing music for a long time but Yard Act is still a young band. You released your first album in January, after signing with a big record company. And this record had record sales. That must create some pressure perhaps. Besides, many celebrities have said they love Yard Act… There is a recurring theme in your music but also in your interviews: don't forget where you come from. So, after everything that has happened to you in the last year, how do you manage to keep it in mind?
James Smith: I honestly don't think we're at the stage where we need to worry about that yet! Our day-to-day life hasn't changed that much, except that we're not at home as much. I still take my children to the playground.
Jay Russell: For me, the fact that I'm touring, that I'm travelling a lot in Europe, amplifies my realisation, my vision of the problems when you come back home!
James Smith: We're aware of what we've done all along. We've achieved a level of financial stability that we've never had before. But we haven't achieved a level of fame that changes our lives. And we never worked to achieve fame. We didn't get into music for that. We do music to express ourselves. The music industry is the last place in the world to achieve financial security! (laughs)
You recently re-recorded a version of your song "100% Endurance" with Elton John. How did this collaboration come about?
James Smith: He started mentioning us in the press. So we did a cover of Tiny Dancer, to get his attention, let's face it! (laughs) And it worked because he got my number and called me. We started talking a bit together. And then we asked him if he wanted to do a song with us. He agreed! So we spent an afternoon in London in the studio with him.
The first album is still fresh but when can we expect the next one?
James Smith: At the end of next year!
Interview by Thomas Destouches
Photo credit: Olivier Hoffschir